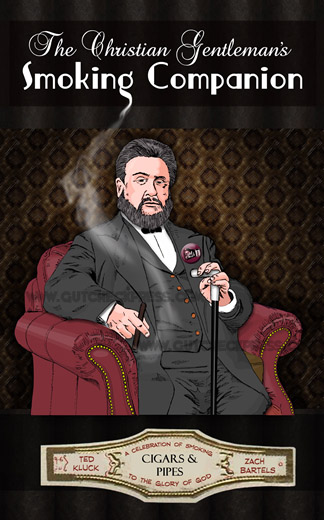 You knew it would happen eventually. You knew the guys who brought you Kinda Christianity and Younger, Restlesser, Reformeder would someday deliver the comprehensive guide-to-slash-celebration-of cigar and pipe smoking for the discerning Christian. Well that day is here.

What will you find behind that handsome cover? Lots of essays, quotes, interviews, humor, insight, instruction, meditations, reflection on cigar and pipe culture, and a basic primer on the fine art of smoking.

Ever wonder . . .
how to pick a humidor?
which member of the Newsboys makes and sells high-end pipes on the side? (We've got an interview with him!)
which Puritan wrote a poetic sermon that uses smoking to illustrate the Gospel?
which Reformed theology icon wished he had taken up cigars?
what your favorite classic movies and novels would have been like if the main character was replaced by Cigar Aficionado editor James Suckling?
You'll learn all this, plus what different cigar brands say about the smoker, the difference between a Claro and a Maduro, the best places to enjoy a smoke to the glory of God on any given day, and much, much more.

The Christian Gentleman's Smoking Companion is available now in paperback on Amazon.com Click here to buy.